Testimonials
Brown's Tree Farm offers the highest quality Fresh Christmas Trees available. We guarantee you will be completely satisfied with any purchase you make from us. Below are a few testimonials we received from our previous customers.
Thank you for, once again supply I a beautifully shaped and very fresh tree for our Christmas celebration.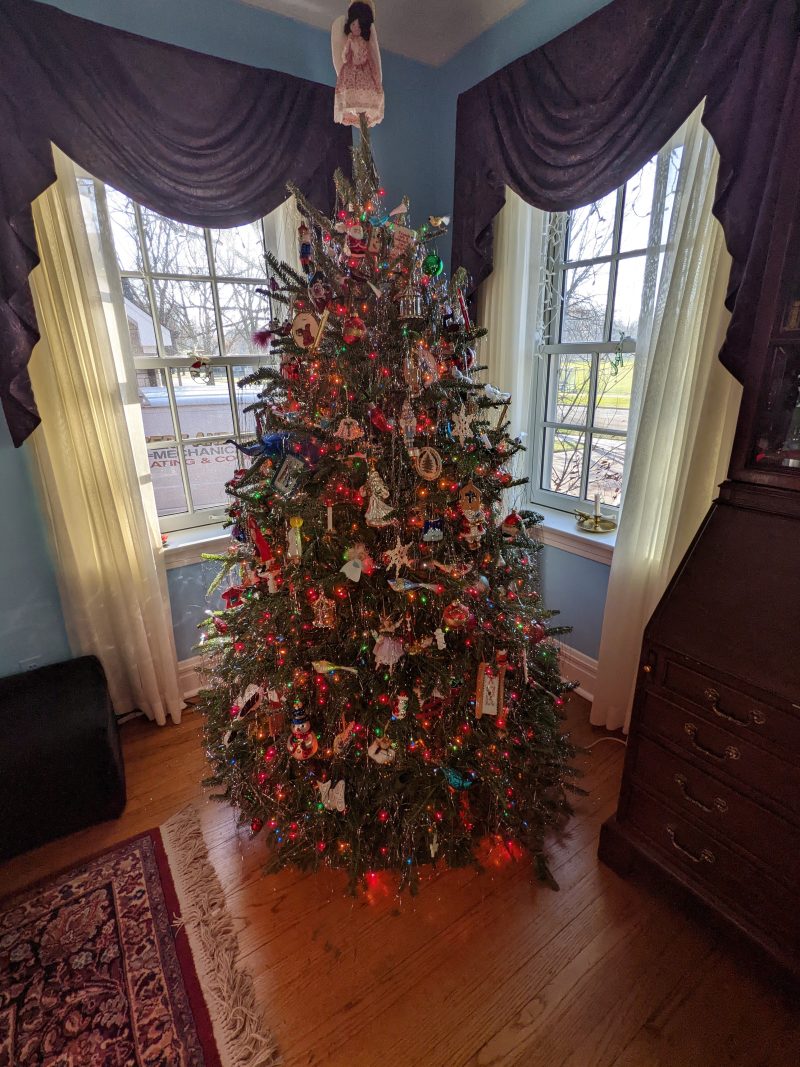 I'm just letting you know how much we enjoyed our tree from your farm this past Christmas. It was nicely shaped and had a beautiful scent. For years I had a real tree and got tired of the needles falling of everywhere!! This year, however, as a special treat for my 40 yo son and his family I left the artificial one in the closet and splurged…we were all so happy that I did. Thank you so much for taking good care of your customers. I'll see you in 2023!!
I just wanted to send my belated thanks the the most beautiful tree I have ever had. The quality and freshness were extraordinary, and it arrived just when you said it would! Thanks for making my Christmas a little brighter!
Just a note to say that our tree was the freshest and most beautifully shaped tree we have ever had. We loved it, and we loved your business. We will be ordering from you again next year. Happy New Year!
Hello!! My mom ordered me a tree from your farm for 2022 Christmas. Most of my previous Christmas trees came from Maine, but it's gotten to the point where we couldn't find anyone selling taller trees that also shipped them. I was a little worried about getting a Michigan tree, but was hoping for the best. My tree ended up being wonderful!!! It is of the same high quality as the Maine trees and my mom thought it was one of the best shaped trees she'd ever gotten me. My favorite variety is balsam fir and this beauty still looks and feels awesome, as well as still has its lovely scent, though this week I'm finally going to take it down. Real trees bring me pure joy during the Christmas season. Thank you for doing what you do! My mom will be ordering me another one for 2023 Christmas!
I just wanted to tell you how happy I am with your trees. They are amazing. Arrived exactly on time and remained fresh for all of December. They were just perfect and I will be ordering for next year. You are welcome to post pics and this email on your gallery and website. Thank you for the quality and your customer service. Happy New Year.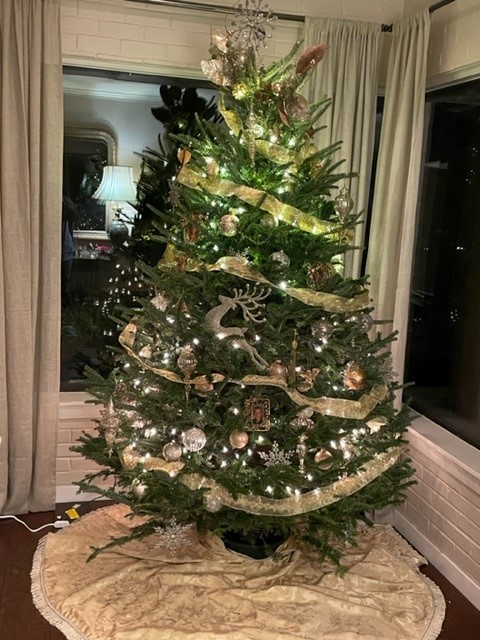 I just wanted to let you know pleased I was with my Fraser Fir. It was beautifully shaped and the needle retention was outstanding. Thank you so much. I will see you again next Christmas
Just wanted to let you know how happy we were with the tree you sent us. It has been up since Nov. 30th and still looks great on Jan. 9th. Time to take it down though even though ir's still not dropping many needles.
The balsam tree that you sent us this year was fantastic. We live in south Florida and our trees in past years turn brown and die within 5 days. The tree that you sent us has been taking over 50 oz of water each day and is as green as the day it was delivered ( 11/29). Thanks much
Happy New Year!!!! The tree arrived at my front door right on schedule!!! Straight out of the box it came in, it went directly in to the tree stand. No trimming or shaping required. The tree is beautiful, shaped perfect and smelled wonderful!!! I have found my Christmas tree connection with Brown's Tree To Your Door! Highly recommend!!!!
Thank you for a fresh and perfectly shaped tree! Throughout the holidays, we have been receiving multiple compliments from friends and family members who have observed how beautiful our tree is. In years past, we have utilized a different tree shipping company, but we are so glad that we switched to Brown's—"atreetoyourdoor.com." Thank you for our amazing tree and your wonderful service!
We live in Indiana, and this is the first year we've ordered a tree from your farm. We probably observe a later Christmas season than most people, so we are still enjoying the nicely-shaped tree you sent to us. Shortly after the tree arrived, we opened the box and spread the cardboard flat on the floor near the stand. After cutting a slice off the trunk, we swept the needles off the cardboard. Several times we rolled the tree to the other edge of the cardboard so we could clean up needles. We repeated this until there was nothing more to clean up. The tree has been so fresh that we can intentionally brush the tree and not cause needles to fall, so this has been a non-issue.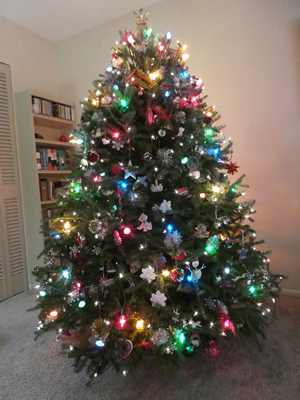 Tree outlasted any we've ever purchased locally. Pictures top & center are post Christmas. Arrangement flourished to 1/31!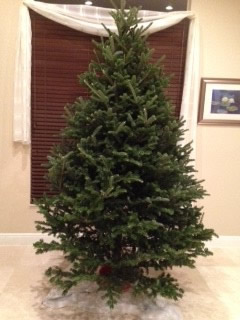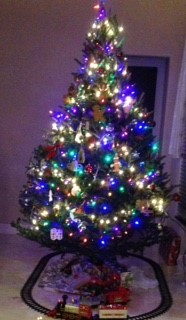 I have purchased an 8.5foot Fraser fir Christmas tree from you farm for the past three or four years and every time the tree has been better than any I could purchase elsewhere. It usually stands in my living room for four weeks, and on the day I take it down, the needles are almost as fresh (the "the needle squeeze test") as they were when I erected it month earlier. I will continue to buy from you, and I hope your farm flourishes from the loyalty of its buyers. I look forward to hearing from you next October. You can see my tree decorated this year (2019); it was beautiful.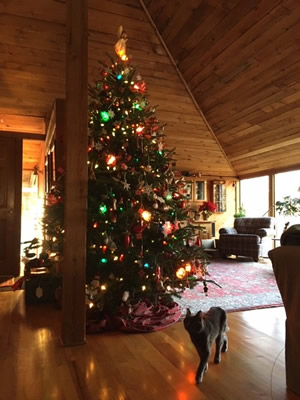 Our Balsam Fir was absolutely perfect!! It was delivered on time and super fresh!! Thank you for the best live Christmas tree we've ever had!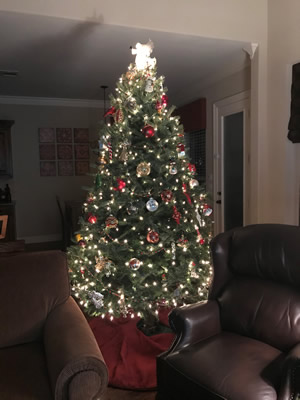 I have been getting your trees for 3 years now. You ship it to my home in Florida. It always comes when expected. It is always fresh and soft.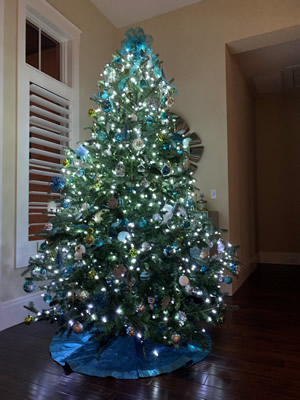 MERRY CHRISTMAS Just wanted to let you know its the first time we bought a real tree in a while and we wanted a real tree. Were so happy we did and my whole family LOVED our 8 and half tree, Told all our friends and relatives about our tree and they didn't know you could pre order a real tree and have it delivered in advanced. They were totally surprised and will also use you guys next year. THANKS SO MUCH AND HAPPY NEW YEAR!
Dear Brown's tree farm, I am in my forties, live in Florida, and have never had a real Christmas tree until this year. I did a lot of research before ordering and the Frazier fur was by far the winner for real trees. I stumbled upon your website thanks to google. My tree arrived as promised the day after The shipping date I asked for. I was somewhat taken aback at the size of the box… I was really expecting something larger and thought "I have made such a mistake". I have never been so delighted to be wrong. When I first took the tree out, it smelled like heaven. My husband and I put it in the stand, added water, and left it to fall overnight. Since I've never had a real tree before, I wasn't sure exactly how to decorate it- but you tube and google are your friends. My tree this year was the absolute most beautiful tree I've ever seen. Everyone who saw it, commented how beautiful it is and what a perfect shape. I will definitely order from Browns tree farm from now on!!!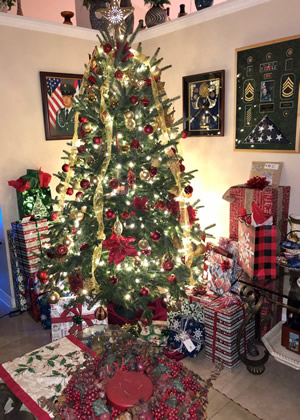 The tree arrived perfectly packaged. It has been up in my house for 4 weeks. It is still nice and green. It continues to take water. We will order again next year.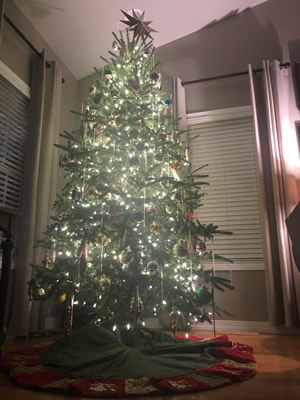 Thanks for a gorgeous tree- we're still enjoying it! Well be back next year- thank you!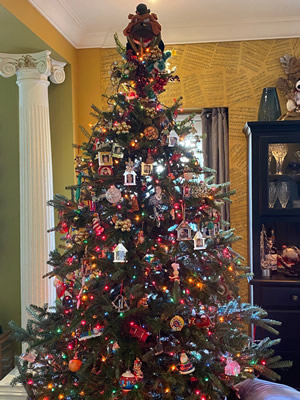 I've ordered numerous farm fresh trees and my Browns Tree Farm tree has to be one of the best! It's absolutely gorgeous! Not only is the tree perfect in every way but I had to change the delivery date. Usually this can be difficult but not with Browns Tree Farm, it was no problem for them and it was delivered on time. Will be getting my Christmas tree from Browns Tree Farm next year! Thank you!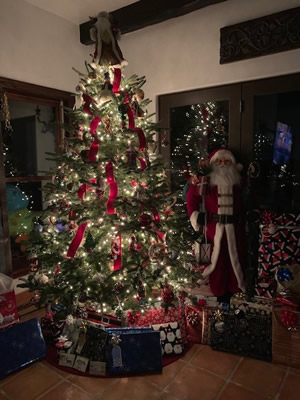 We are so thankful for your company. My son has severe environmental allergies and has never been able to have a tree in the house at Christmas. (Not even a fake one due to other allergies). We ordered a white pine and it has been wonderful! The tree is beautiful, it's full and a perfect shape. Size is an advertised. For the first time in my sons 12 years of life, we have had a tree in our house, has not effected my sons allergies and is beautiful! We are so thankful!
The tree I purchased for my parents was wonderful. So easy to set up. Everyone that visited my parents house over the holidays loved it. I will use your company again next year.
We loved our tree!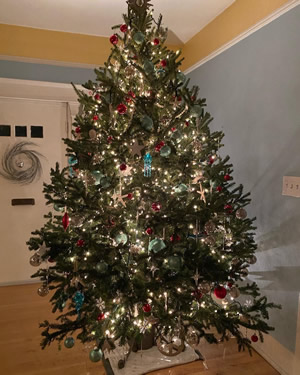 We loved our tree. It arrived on time, packed well, and it was beautiful from day one. This is it last night, after the Christmas morning assault. Looks great and stayed fresh all month. We will order again in 2020!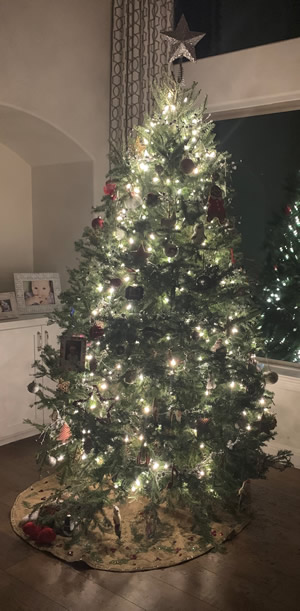 The last two years we've purchased our family tree from you. We have been thrilled with every aspect of the tree, the ordering, deliver, and of course the beautiful fluffed out tree in our living room have all been outstanding. Thank you for making our Christmas special!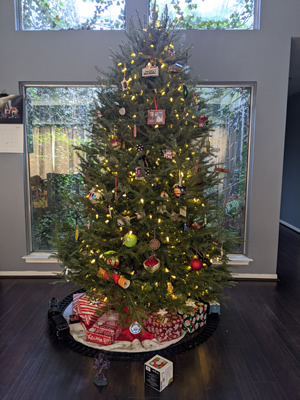 It has been cut since the 18th of November. Still up and looking good my wife says she hates to take it down. Thanks again Happy New Year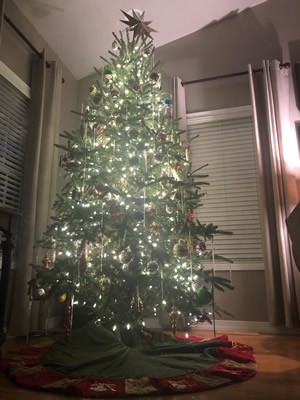 I will definitely use you again next year. My sister-in-law is now interested after seeing my tree. Was absolutely beautiful! I could not have asked for a better shape, better trunk, better freshness! All was perfect. Thank you and I can promise I will save this email in my files for next Christmas.
My tree arrived timely. It was easy to set up and is beautiful. I received many compliments.
We loved our tree! It was the best we've ever had! Everyone who walked into our house, has commented how beautiful it was. It has remained fresh and drinking water long past our expectations. We plan to order from you again this year. Thanks for adding to our Christmas joy!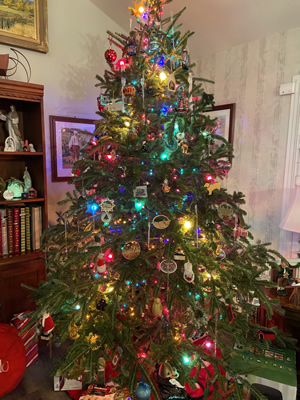 The tree was beautiful, and a true family piece that makes the season more enjoyable. The family loved it!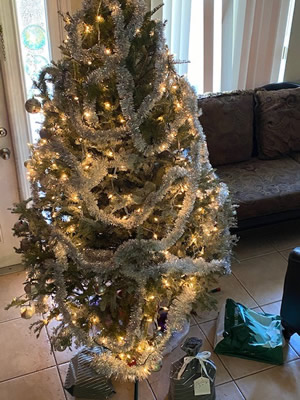 This is the second year we have bought tree and we couldn't be happier! The tree arrives fresh and we put it up and add some water and then it is, we even had the dogs and kids playing around it on Christmas Day bumping into it and after the 4 weeks from arrival still had very little of the needles fall off. It is ultra-convenient to have the tree delivered to our door the day after Thanksgiving and we will continue to order our trees from you! Thanks for the great service and the great trees, we look forward to you being part of our Christmas tradition for many, many years!! Thank you and Happy New Year!
We loved our Christmas Tree. It was beautiful and fresh. We ordered it before Thanksgiving, and it was perfect all through New Year's. My husband loved it because it was delivered to the door with no fuss or hassle. We will definitely be ordering from this farm for years to come.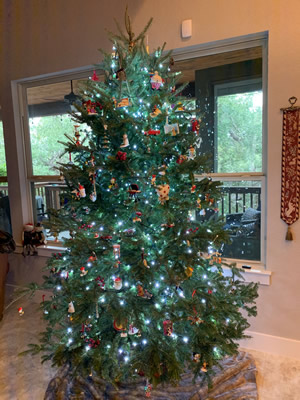 I love this tree! I received on the day I was supposed to get it (Nov 19th) and kept it watered. Put a little flower food in it now and then. Today, the day after Christmas it STILL looks fresh, hardly any needle drops and doesn't feel stiff. It came in a box, fluffed out overnight, and had hardly any holes – they were so easy to fix. I've ordered two years in a row and I'm going for three! Definitely a winner for trees! Thank you!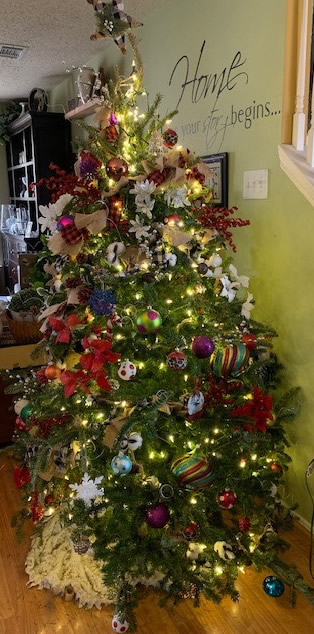 It's my pleasure to inform you that it has been one of the best Christmas trees (prompt delivery, shape and needle quality) to date. So far, we haven't seen a single needle fallen on the carpet. As a first time customer, I will be back again with my order next year. Cheers!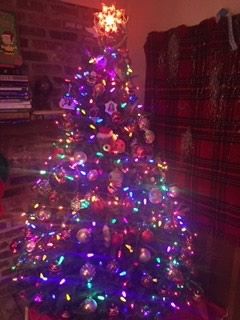 As usual, my beautiful white pine tree arrived as expected. This year it was a red tree covered with red lights and decorations. Just lovely and still standing today!
I trusted my research online and so happy I did. I found and read about your tree farm and based on all reviews and your wonderfully detailed website, I placed my order. We are very pleased with the entire process and quality of our tree. It was all your website said it would be with regard to the individual tree ratings. We will definitely be a return customer. We've never had such a healthy tree.
We have enjoyed our tree very much, We had it delivered on Nov. 20, and it still has a wonderful smell, as well as looks great! We are so happy we decided to order the 7.5 Balsam Fir this year. We have and will continue to recommend your Tree Farm to everyone.
I wanted to follow up to tell you that our tree was glorious through the holiday season! It stopped taking water and some branches started turning brown around New Year's Eve, so it stood beautifully for a good 5 weeks. The strong, sweet, piney smell actually got better and better through the weeks. Although I grew up in CT and NH where we had "real" trees every Christmas, it's not as common in the south, so this was the first year that my husband I had a "real" tree in Florida. We've decided to donate our artificial tree and plan to order from your farm again next year! Thank you for enhancing the magic of Christmas through your marvelous trees
Thank you again for a beautiful tree. It is STILL alive today, even though it's January THIRD!!! We love it so much.
The tree was beautiful. It was the perfect size and shape and it still doing really well. I will be ordering again next year. Thank you And Happy Holidays!!!
It is certainly a pleasure to do business with a company that delivers as advertised. We loved our tree. It was the center piece of a holiday filled with family and friends. Thank you Brown Tree Farm!
I LOVE MY TREE! Everyone loves my tree! It's still just as fresh today (Dec. 27) as it was upon arrival! I would not hesitate recommending your tree farm to anyone, and will certainly not hesitate ordering from you again! Thanks so, for keeping your word, being honest, and delivering what was ordered!
We loved it. Best tree we have ever had in our living room during 23 years of marriage. It was our first purchase from you, but will not be the last. If you send out reminders, please put us on your list for this October!
Wanted to let y'all know how satisfied we were with the Christmas Tree we ordered this year. The tree arrived exactly when promised and was packaged in a way that nearly eliminated any potential for damage. The tree went up the week of Thanksgiving and we took it outside yesterday on Epiphany (January 6).� The tree was still a deep green with soft, tender needles, not nearly ready to be dropped into our pond's bream bed, so we moved it outside for the birds to enjoy for a few weeks.� I will be interested to see how long it remains this way.
Our local supply of fresh trees has dwindled over the past several years and those we do see are not of the best quality or of a style our family finds attractive. We obtained live trees from three companies this year because I wanted to try several different options. Your tree was, by far, superior. The locally bought tree started dropping needles a week or so before Christmas and a mail order tree from another company arrived with one side of the tree browning and several broken limbs obviously having spent a considerable amount of time either lying on the ground or on a stack.
My family has been in the timber business for over a hundred years and while we don't grow trees suitable for Christmas trees we do have an affinity for local growers and tree farmers. Count us in for another order next year – only next year we will order early enough for a larger tree!
I just wanted to say thank you for my beautiful tree and the wonderful customer service. You now have a repeated customer, I love my tree I love the way it was wrapped and shipped to me . I will definitely be getting another tree from you guys next yr. Once again thank you and have a wonderful New Year.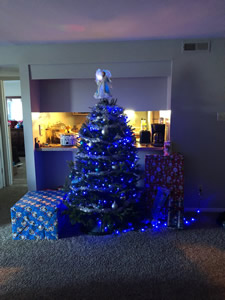 Your Christmas tree was truly the freshest, most beautifully shaped tree we have ever had! We will be your customers for life. Thank you so much for the opportunity to have one of your trees. Happy New Year.
This is the third or fourth year I have purchased your trees. Again I am completely satisfied. Thanks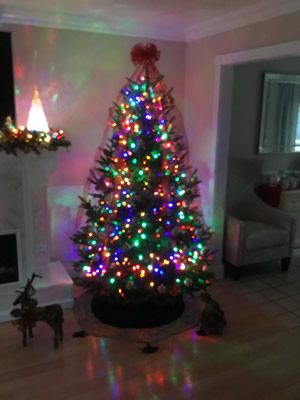 This was our first tree from you, and it surely won't be our last. The tree arrived safely and in perfect condition, right on schedule as promised. It's a lovely tree, beautifully green, supple, and happily drinking water every day. We could not be happier. Nor could our bulldog, who loves to curl up on her holiday cushion virtually beneath the lower branches. The cats, too, for that matter. So the whole family is enjoying the tree. Thanks again for your great service. We'll be in touch next November. Meantime, best wishes for a Great New Year.
We absolutely love the tree. Shipped well and smelled great. Plan to order again next year. Happy New Year!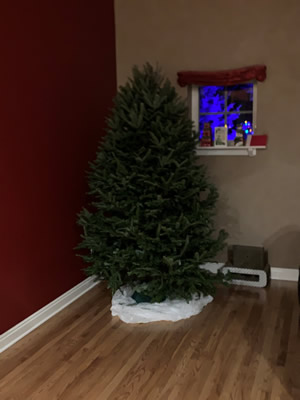 Hello ,I just wanted to thank you for the most beautiful Christmas tree I ordered from you guys this year , I am a new customer and I will definitely order again from you guys!!!! I don't have a social media acct but I assure you I'm telling everyone I know what awesome trees you guys deliver 😁 I could even tell branches were carefully trimmed to shape the perfect Christmas tree that really speaks to me the CARE that goes into your beautiful trees you offer to us customers, THANK YOU ! It made our Christmas wonderful!!! Happy blessed prosperous, healthy New year ! And until next Christmas 🎄 have a great year !
Hi Brown's tree farm, My wife and I were defiantly pleased with our purchase this year. The tree had a very great fragrance, as well as the wreath. We both loved how the wreath was put together. Though this was our first time for ordering it, it won't be our last. Happy and safe 2020 to you and yours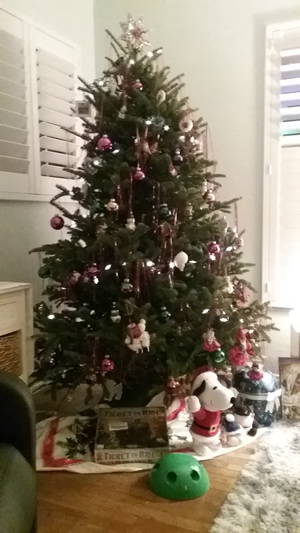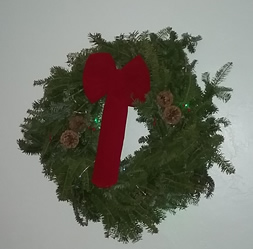 We have ordered from you for several years and have received beautiful trees. Thank you for making it so easy to have a special tree. Here's a photo of this year's.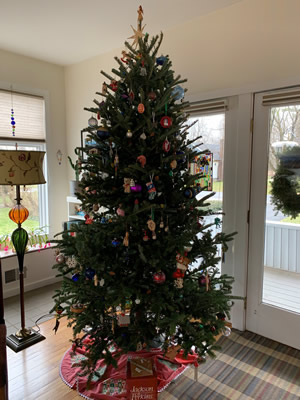 This was my first year ordering from Brown's Tree Farm through A Tree to Your Door and I was very pleased with the entire experience. It's a great option to support a local tree farm for those who are short on time or just enjoy the convenience of having a tree delivered. The tracking information for the tree was accurate and it arrived exactly as planned. The tree is gorgeous and of high quality. It has stayed fresh a month later and still smells great. Will be using this service for years to come.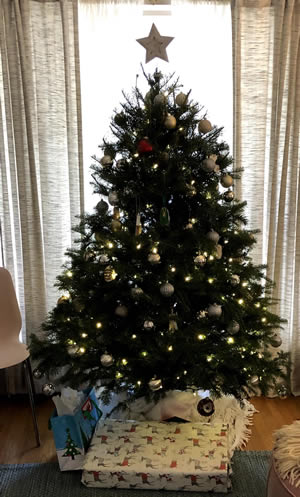 This is the second year we have gotten our Christmas tree from Brown's. We have loved both trees…this year we ordered an 8-8.5 foot tree. When we received the tree, it measured 8 feet, 3 inches, and the shape was perfect, large enough to hold 40+ years of collected and handmade ornaments. Knowing the delivery date is extremely helpful so the whole family can meet at our mother's home to decorate. Thanks, and we look forward to next year's tree! Happy 2020!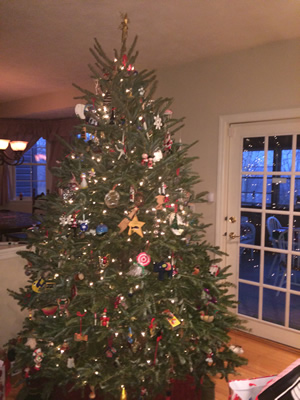 Thank you so much for the beautiful tree! It arrived on time and in excellent condition! I am still enjoying it every night and will through New Years Day! I will definitely purchase from you again next year!
Fifth tree we have gotten. Put up before Thanksgiving will take down New Year's Day. Still very fresh!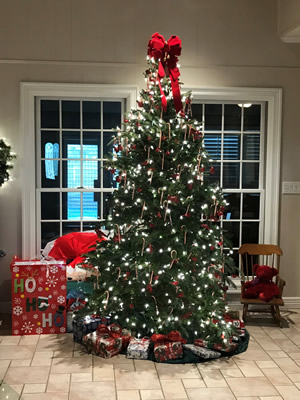 For the past few years we have been going as a family to find a live Christmas tree. I think it's a great tradition for a family to do but this year I was deployed and wouldn't be home. I was able to find Browns tree farm online and saw that they shipped Christmas trees. I was very skeptical about this but I must say the tree turned out very well. I purchased the biggest tree that they could ship (8-8.5ft) and it was a nice tree. I will be ordering from them again. Keep up the good work!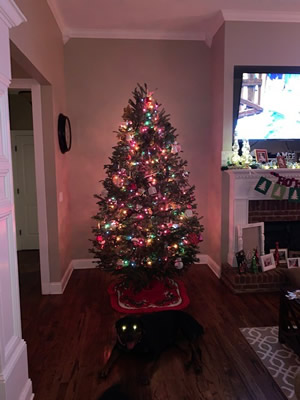 The service was great. The tree was absolutely beautiful. I couldn't be any more pleased and will definitely order from you next year.
The tree arrived perfectly packaged. It has been up in my house for 4 weeks. It is still nice and green. It continues to take water. We will order again next year. My only wish is that there was a way to get a taller tree shipped.
I was very pleased with all aspects of your service. The tree was excellent – fresh, fragrant and well-shaped. Delivery was exactly as promised, and very convenient.
Its hard to get balsam trees in my area now. I was happy to order one from Brown's. Next year I need to go up a size thinking I needed a tree right at 8. I loved my tree that was sent. It had a perfect shape and smell of a balsam! Thank you!
The best tree I have ever had. Still looks great after one week in Florida. Still very much alive!
I purchased two Balsams this year and can honestly say they are the freshest, most fragrant Christmas Trees that I have ever had. With the convenience, quality, and value of Atreetoyourdoor.com, there is no question of where I will purchase my trees next year. I am definitely a very satisfied customer.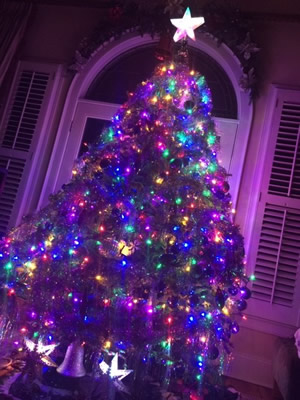 Every year I order from Browns Tree Farm because the trees never fail to be the freshest and most beautiful. I have referred several of my friends to order from this company because the trees are fresh- and remain so throughout the entire Christmas season. I am a loyal customer and hope to be ordering from Browns for many years to come. They are the best!
This was our first year ordering and our Tree did not disappoint! It was a beautiful shape, fragrant, full & healthy. The packaging & shipping were fantastic. The Owner, Wes Brown, also sent us a personal email addressing a shipping request we had, offering practical guidance and paying attention to our request. Will recommend and order again.
My tree is perfect. It smells so good. I had no problems setting up the stand and the tree went in so easily. I am impressed with the tree and with myself since the tree is still standing. I have had problems in the past. The process and the tree more than met my expectations. Happy New Year to you!
After my usual Tree Farm in Northern California lost their 2019 crop due to fires my "Family Elves" began our nationwide search for a new to us TREE FARM. 😂 Not an easy adventure. We search the Web to see what was available. Thankfully Greenfield Farm let us know in October there would be no trees shipped in 2019 Christmas season. Due to your extensive website, telling us the journey of each tree, what kind of trees offered, how long it takes from sprout to my living room, AMAZING STORY! Our Family liked what we saw and the care provided our choice from your home to ours. Fed Ex was outstanding choice, other than outlandish shipping fees, cost more than our tree. Delivery was handled with care. Driver delivered to our front door in less time than expected. Family tracked Trees journey online from start to finish From Michigan to Idaho in 5 days, absolutely worth the cost. We all thank your Family for helping make our Christmas a success via "OUR TREE". That is where our 2019 Christmas story began. We HONOR OUR Evergreen, lush, best smell ever, stayed fresh, lost few needles as expected. Beautiful until she comes down , GREAT JOB ❣️ Thank you and BLESSINGS in 2020. May your next harvest year be a success….
This was our first year ordering form your company and we are extremely happy with our tree. We have been ordering trees for many years from a different company and I was amazed at the difference in the freshness and fullness of our tree this year. We will definitely be ordering from you again next year.
As usual, the tree arrived on time. Putting it on your stand was a breeze. It looks lovely and is perfectly shaped and just the right size. Evidently, during shipping it was stood on it's 'head'! The top branch – for a star, a bow our whatever was laying forlorn in the carton. However, using a hot glue gun, it has a top! Thank you for sending me another beauty – that's three years running I believe. Keep up the good work.
My wife and I really enjoy the tree. It came the day we wanted it and it looks beautiful. Perfect shape. It is fresh and will definitely stay healthy for the season. Will buy again.
First year using this particular on line tree service and very impressed with the freshness, height, and quality of the tree. Will be using again.
I am fascinated with the tree we received from you and I've already filled out the survey. It couldn't be any better and would never be as perfectly shaped from a corner lot.
I am fascinated by how fresh it is. We cut off an inch off the bottom as suggested, then followed the MSU website and immediately sprayed the bottom with water. We than put a wet cloth on the cut bottom and removed it when we put it in the stand with water in the bowl. My fascination is with the water absorption since we brought it in 16 days ago. At this point it has absorbed about 12 liters of water. And continues to take almost a liter a day. It is still as fresh as the day we unpacked it.
Thanks for the great Christmas tree. We've told many friends where we got it and hopefully you'll get several new customers next year.
Happy Holidays to you and thank you for a great Christmas Tree.
Thank you for delivering our tree so quickly – it's almost Christmas and it still looks and smells great! I love being able to order our tree online without the worry of tearing up the top of our car!
Merry Christmas to you and yours!
The decorated tree is beautiful and fresh. But I am sending you instead the pic I posted to Facebook the day my tree arrived. As a 63-year-old woman with little manual dexterity and less patience, I was stunned by the fact that I got the six-foot tree out of the box and into the stand, straight and secure, in under six minutes and all by myself. So were my two grown daughters and my dog, K, as you will see by the comments (screenshot attached).
Anyway, I was–and remain–delighted. Thank you!
To Whom It May Concern,
Thank you very much! The tree and wreath are absolutely BEAUTIFUL!!! I was raised with my family always having a real tree and I raised my children the same. We always got our tree from a lot the week before Christmas, so they would last through the new year. Once my girls were older, they decided they wanted an artificial tree, which I have had for the last 15 to 20 years. My oldest granddaughter begged me this year to have a real tree so I decided to try ordering one to see how it goes. I have to tell you, I was a bit nervous about it, BUT I have definitely changed my mind. The tree is beautiful and I absolutely LOVE it!!! It is so fresh and the appearance is practically perfect. As noted, this is the earliest I have ever bought a real tree, and it still remained beautiful when we took it down on January 3.
You definitely have a new customer (as long as my daughter is OK with the lights and decorating, lol), and I will refer you to anyone I see. The whole buying/shipping went very smoothly and the tree was so simple to get in the stand and to dispose of it!
Thanks again!
Beautiful tree! It arrived on the date promised. Packaging was excellent. The tree came out of the box beautiful and fragrant!
I LOVE my tree !!!!!!!!
It is beautiful and fresh and from MI.
I will be buying one next year!
Have a Merry Christmas !
I want to thank you. This is the first year I ordered from you. My tree was perfect!!! So fresh I will order it a week earlier so the branches can come down more. We are just taking it down today. The branches are as soft as a new fresh tree. The bag you sent is fantastic! It went around the tree easily and made it simple for my husband to take the tree thru the house and outside. I had very little needle droppings beneath the tree. Fantastic! I will definitely be ordering from you again.
Diane R.
I just wanted to compliment you and your company on the beautiful tree that I ordered from your site. I received it one week after thanksgiving, and I'm just now taking it down. I could actually keep it up longer and pretend it is an indoor bush, but I am heading out of town in a few days so won't be here to water it. This I my first ever live Christmas tree in 33yrs, but wanted something special for my 4yo and 1yo first Christmas. Thank you very much for your Superior quality of the tree. Everyone I know has said that their live tree has long since been dead, and mine is still in wonderful condition, just by adding water. I will defiantly be ordering for you again next Christmas.
Craig G.
I must admit as this was my first not from the corner lot tree I was a bit nervous. What prompted my purchase was my desire for a white pine, which the local tree lots just stopped carrying several years ago. My bride of 26 years was very skeptical of my order.
Well you exceeded our expectations, I could not have picked a better tree. The overall shape was amazing, and the height was perfect. We actually had the tree in the stand for 4 days without lights and decorations just admiring the tree. During our annual family gathering on Christmas Eve everyone and I mean everyone was amazed at my atreetoyourdoor.com Christmas tree. On this New Years Eve the tree has had minimal needle loss, and still holds a beautiful green color.
I expect besides my order next year you may get a few more from the Fort Lauderdale area.
Frank W.
We absolutely loved our christmas tree and wreath. It was the best tree we have ever had. You made it so easy. As the tree arrived at our door in plenty of time to enjoy before christmas. Many thanks and happy new year.

Colleen C.
We loved the tree. The service was outstanding! I hope that you will add us to your email list for next year. It seems that we get a tree from a different place each year. We are happy with yours for sure. Thanks.
Joe M.
I was very happy with your service. The tree was delivered to my 3rd Floor apartment in great shape. I found the stand easy to use as well. You now have a new and satisfied customer.
Pat S.
We had a wonderful Christmas and your beautiful tree played a big part in it! It was spectacular and our request for a tree with a trunk diameter of 4″ or less in order to fit into our antique tree stand was noted and observed. We thank you all and look forward to doing business with you again next year. Merry Christmas and Happy New Year!
Bob M.
Buy a Real Fresh Christmas Tree from Brown's Tree Farm this year and we're sure we'll be able to add you to our list of satisfied customers!