Christmas Tree Stands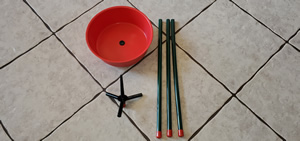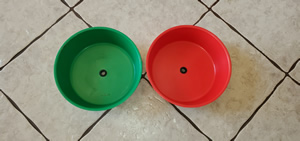 Pin Style Christmas Tree Stands
Stand comes with three legs, PIN, and a red or green bowl.
If you've never heard of a Pin Style Christmas Tree Stand then you will want to pay close attention. Brown's Tree Farm is about to make your life a lot easier this holiday season.
Pin Style Christmas Tree Stands offer the easiest Christmas Tree setup imaginable. When you Buy a Christmas Tree Online from Brown's Tree Farm you simply select the "Drill Christmas Tree" option and we will drill your Christmas Tree for you for FREE.
When you receive your Christmas Tree you simply take it out of the box, make a fresh cut, and then slide the pin located in the middle of the Christmas Tree Stand into the hole we drilled into the bottom of your Christmas Tree.
No more trying to get your Christmas Tree to stand straight by tightening bolts. Another great benefit of Pin Style Christmas Tree Stands is that you can spin the tree while it is on the stand. You can position your Christmas Tree just the way you want it even after it has been decorated.
The PIN Style Christmas Tree Stand measures 43″ in diameter when assembled. This provides optimal stability for a tree up to 8 1/2′ tall.
Large

$39.00

Note: If you are purchasing a Christmas tree it is less expensive to add the Christmas tree stand as an option when purchasing your tree. When you purchase a Christmas tree stand with a Christmas tree they both ship in the same box. This will reduce your shipping costs.
We encourage you to ask around. Anyone who has used a Pin Style Christmas Tree Stand will never use anything else again!