UPS Shipping Time ----->Close Window and Return to the Previous Page
Use the chart below to calculate the approximate quantity of days it will take to ship your package.
Please note that once your package is in transit you will receive an email indicating when you should receive your package.
Note that the date you select when placing your order is a SHIP date not a DELIVERY date.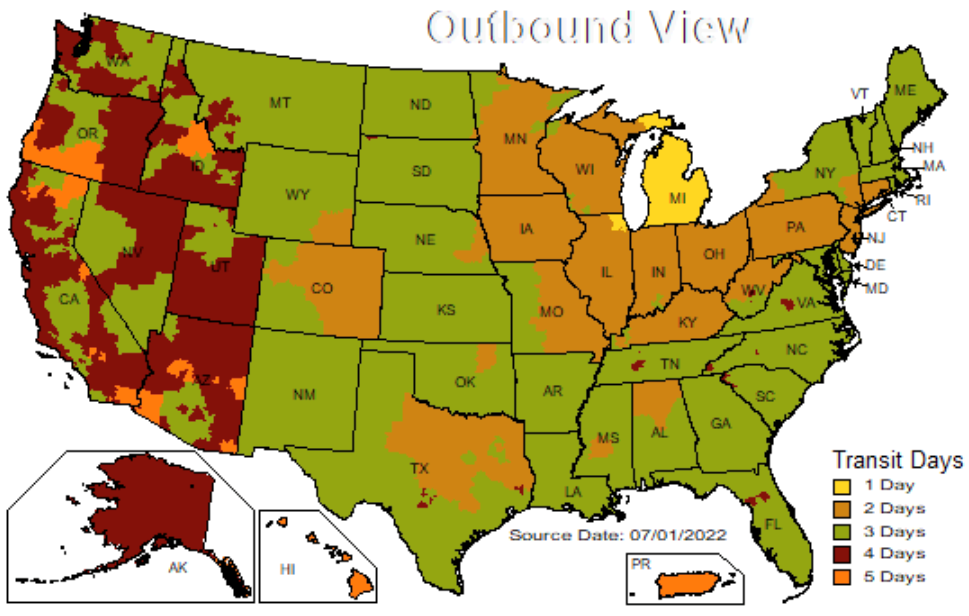 When you order a Christmas Tree or Christmas Wreath online from Brown's Tree Farm you have the option to select the estimated date you want your Christmas Tree to be shipped. Each week we review our orders, then harvest and ship Christmas Trees based on their estimated ship date. Christmas Trees are shipped every Monday, Tuesday, and Wednesday. Typically, West coast customer's trees will be shipped on Monday while customers located closer to Michigan will have their tree shipped on Tuesday or Wednesday. Due to the volume of sales and the time required to box each tree individually, we cannot guarantee whether your tree will be shipped on Monday, Tuesday, or Wednesday. The chart above shows approximately how long your Christmas Tree will be in transit. You will receive tracking information once your tree has been shipped. Until your tree has been scanned by UPS at their location, your tracking number will not show a status, even though it has been shipped. While the transit times are typically accurate, UPS does not guarantee transit times for ground shipments.